Do Manchester United simply need to sign more players or do they need a tactical overhaul?
José Mourinho seems so stubborn in his desire to play with a big number nine in what looks like old-fashioned football. The Manchester United coach doesn't look likely to change his tactics any time soon and will hope the additions of even more quality players can make his team more fluid and effective next season.
Many would argue that the full backs at Manchester United have actually been among the most consistent performers this season. But I believe that when Manchester United sign some specialist full backs the shortcomings of Antonio Valencia and Ashley Young will be laid bare. They have been great servants to the club but they don't have the forward thrust required to offer the sort of attacking threat that Manchester United need down the flanks in Mourinho's narrow formations.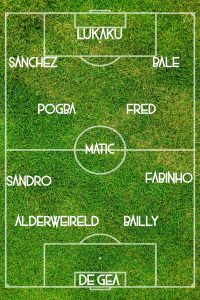 Alex Sandro and Fabinho would be excellent additions to the Manchester United team. For Manchester United full backs it's all-important that they are comfortable with attacking. Toby Alderweireld would be a superb centre back to add to a Manchester United team in which Chris gets regular maulings Phil looks like a bag of bones.
There has existed a palpable lack of balance in this Manchester United team and that's partly because they don't have a natural right winger. Gareth Bale is left-footed but plays on the right hand side for Real Madrid and would be a brilliant buy for Manchester United. United have an embarrassment of riches down the left but the right flank is lacking.
Perhaps the most important signing of all would be a wizard of a midfielder – somebody like David Silva who could thread passes through to the attack. It was hoped the Paul Pogba might be that man but it hasn't worked out that way, despite his obvious talent. Let's have a look at how Manchester United might line up next season.
United fans: Realistic?